We are committed to working with schools and colleges in Newham and across London. We can offer a variety of packages and ticket offers for schools, colleges and universities.
SCHOOLS WORK EXPERIENCE 
Stratford East is delighted to be offering a work experience programme again in February half term.
The programme is designed for students in Year 12 who are living or studying in Newham and the surrounding East London boroughs*. Students will have the opportunity to gain practical experience working across the departments in a producing theatre. Working with theatre director and practitioner Simone Watson-Brown, students will be given a hands-on insight into marketing, fundraising, artistic programming, public speaking and personal branding.
WHO? Young people in Year 12 living or studying in Newham and East London*
WHEN? Mon 13 – Thu 16 Feb 2023, 11am - 4pm. There will also be a separate theatre trip – date TBC.
WHERE? Stratford Youth Zone (formerly Stratford Circus) and Theatre Royal Stratford East, Theatre Square, London E15 1BX.
HOW MUCH? FREE
HOW TO APPLY? Please complete this application form by midday on Mon 30 Jan 2023.
For more information, please contact Maya at mpindar@stratfordeast.com 
* Newham, Hackney, Waltham Forest, Tower Hamlets, Greenwich, Redbridge, Barking & Dagenham, Havering.


SCHOOLS TECHNICAL THEATRE INSIGHT WORKSHOPS
Stratford East are offering Newham secondary schools the opportunity to attend a FREE Technical Theatre Insight Workshop. The 90-minute sessions are designed to support students in developing their understanding of lighting, sound, and set design.
These workshops will run several times throughout the year, the next available date is Tuesday 27 September 2022.
WHAT? Technical Theatre Insight Workshop
WHERE? Theatre Royal Stratford East
WHEN? Tue 27 Sep, with workshop slots available from 11am - 6pm
HOW MUCH? FREE to Newham Schools
To sign up for a workshop please click here to complete an application form. 
The deadline for sign-ups is Fri 16 Sep, 12pm. Places will be confirmed on Mon 19 Sep.


TICKET PRICES FOR SCHOOLS
Call our Box Office on 020 8534 0310 to secure the best deal, or email getinvolved@stratfordeast.com for more information.


WORKSHOPS
We offer workshops to schools around our productions to enrich your students' experience, knowledge and understanding of the show. Workshops can also support specific theatre techniques and styles. All of our workshops are delivered by experienced directors and creatives. We also provide workshops in technical theatre (stage management, lighting, sound and stage).


RESOURCES FOR YOU AND YOUR STUDENTS
We've created a series of resource packs, which include short filmed interviews with industry professionals that we hope your students will find useful to better understand the production process. You can download these free OFF STAGE resources below.
Understanding The Creative Team
This will help your students understand who is involved in making a production beyond those on stage. This resource looks at the Sound Designer, Lighting Designer, Stage Manager and Assistant Director. Download here or click the image below.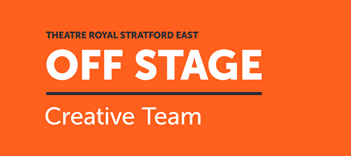 Performing Monologues 
This will help students to prepare, rehearse and perform a monologue. Download here or click the image below.

Designing Monologues 
These exercises will help students explore the early stages of the design process. Download here or click the image below.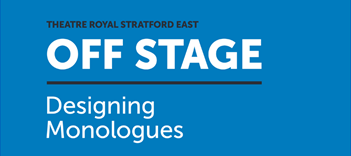 TECHNICAL THEATRE RESOURCE PACK
Designed to develop teachers understanding of technical theatre, with practical exercises to use in the drama studio.
Download here
SHOW RESOURCE PACKS
Insights into the significance of and creation of shows to share with your students:
Cinderella
Red Riding Hood

ANTI-RACISM RESOURCE PACK FOR DRAMA EDUCATORS
Designed for drama teachers seeking to further their understanding of race, racism and anti-racist practice in the classroom. 
Download here 
ARTS MARK AND ARTS AWARD
Stratford East is an Arts Award supporter. We can provide support for young people with their Arts Award qualifications.
Our offer supports schools at any stage of their Artsmark journey to support and complement their drama provision. Our high-quality programmes will offer rich cultural experiences and support students engagement with and understanding of the arts.
FURTHER/HIGHER EDUCATION
We offer a small number of opportunities for people aged 18 or over to gain professional experience within the theatre industry. These opportunities are offered at different points in the year with different departments. Most placements are a week to two weeks long. Placements will be listed here when available.